Customization Showcase
Welcome to our showcase! At TPC, we customize packaging to help your brand tell a story.
Color, finishes, printing and other unique "wow" factors are effective communicators of your brand's story and vision and create an important first impression on your customer. Small details can differentiate your product from competitors and grab your customer's attention and help lead them to the point of purchase. Whether you'd like to communicate this story through visual design, through touch, or through a "wow" effect- we can help.
To meet this need, we provide unlimited options for our clients to customize their packaging with a color, finish, printing and more.
Color
Color is the primary method through which brands visually communicate their values and story to their customers. Customize your packaging with the PMS colors of your choosing- spray coated or in-mold.
Printing
Through a variety of methods, we can print your branding, logo and text information directly on your package for a higher-end look.
Silk Screen Printing
A process by which ink is pressed through a photographically treated screen onto a surface. One color is applied at a time with a new screen for each color. 
Benefits of Silk Screen Printing:
Great for 2-3 colors

Light-resistant

Slightly raised ink can give it texture
Used on : Aluminum, Acrylic, HDPE, LDPE, & PET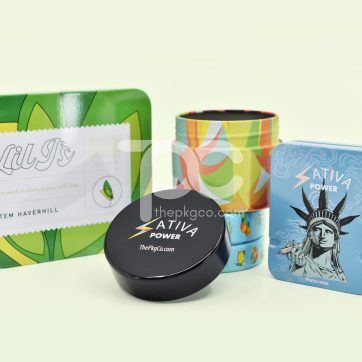 Offset Printing
A process using printing plates to transfer ink onto the containers. Perfect for designs with lots of color and gradients.
Benefits of offset printing:
More precise than silk screen printing

Effective for multi-color (up to 8 colors) and halftone artwork

Can be used to create gradients

High-speed production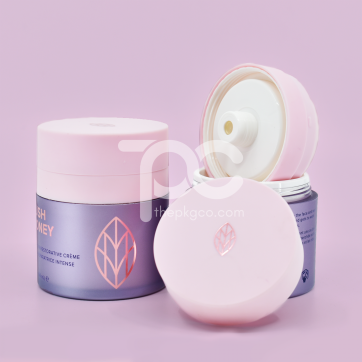 Hot Stamping
Uses colored foil to apply to a surface through a combination of heat and pressure. Colored foils are often gold and silver, but other colors are also available to create a truly signature design.
Benefits of offset printing:
 Shiny appearance is eye catching
Makes products look more premium and luxurious
Final Touches
Both visual and sensory, finishes like matte or glossy with embossing can add an extra special "touch" to your package.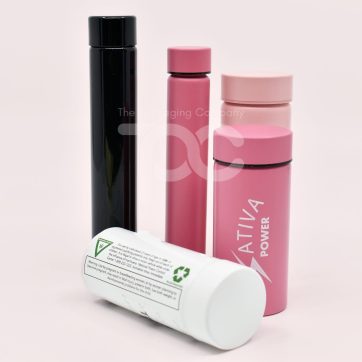 UV Coating Finish
A final coat applied on printed materials cured by ultra-violet light. Finishes include frosty, matte, satin, semi-gloss, and glossy (in order from least to most shiny).
Benefits of UV Coating:
Can make plastic mimic the look of metal

Protects surfaces from scratching

Resistant to chemical abrasion (especially for metal surfaces)

stimulates the touch sensory, leaving an impression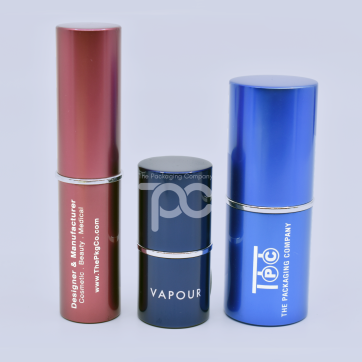 Reverse Oxidation Finish
The process of oxidizing a package two times. First oxidizing your package with your desired color, then printing the artwork with a resistant ink, oxidizing a second time with another color.. Finally, the ink is buffed, creating a shiny effect. oxidize your package a second time with another color.
creates a high contrast and elegant artwork

Adds a sleek shine to the product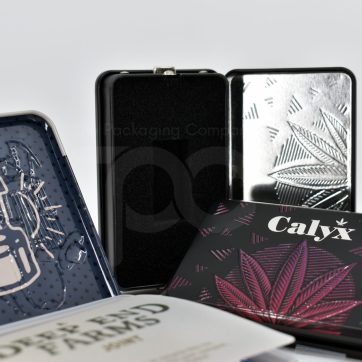 Emboss & Deboss
Leave a lasting impression with your packaging. Emboss & deboss are two critical ways to set your package apart and communicate your branding through touch.
Custom Tooling & Development
Everything we make at TPC is custom- did you want to do something totally different, or did you want to adjust one of our current designs? We offer custom tooling & development to help brands bring new and innovative products to market.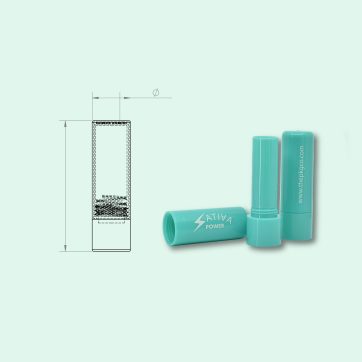 Product Innovation

Our team of designers and engineers work hard to develop products that are fresh and efficient.