Airless Bottles
We manufacture airless bottles for all industries including pharmaceutical, cosmetic, and skincare. Airless bottles can be manufactured with aluminum, AS, to PETG and PP materials.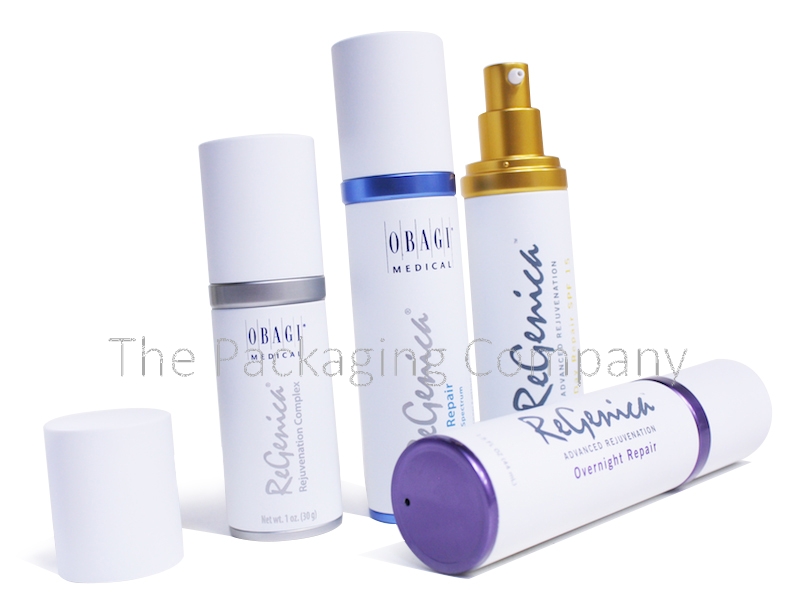 ALUMINUM AIRLESS BOTTLES
Aluminum airless bottles are used to achieve upscale looks and are associated with higher product quality. Its glistening effect that can help elevate your brand value and capture your customer's attention by communicating prestige and luxury.
Choose between a wide selection of styles which can be custom-made in almost any PMS color and finished to achieve highly attractive visual effects. Aluminum airless bottles can boast a shiny reflection or a frosty surface, both of which communicates higher brand value.
Medical brands tend to prefer the clean and clinical look of the matte white airless bottle, while skincare brands prefer bright and highly decorated designs, with nearly endless color anodizing options.
With our expertise and understanding of your industries' needs, we have the perfect airless solution for your brand.
Sizes available: 10-50 ml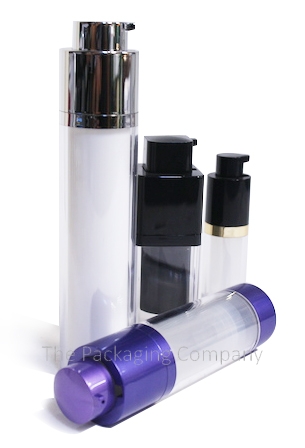 TWIST UP AIRLESS BOTTLES
Designed for mass-market and medium-to-high-end brands, our airless twist-up bottles are perfect for those who are looking for new, luxurious, and innovative delivery system.
These bottles use a twist up closure with no cap. Twisting the cap causes the pump actuator to slide up. Twist it down to close securely. Twist up airless bottles come with a variety of different styles.
Customize with different colors and finishes. Our double-walled design allows a full range of decorations such as silk-screening, hot stamping, custom color injection, and vacuum materialization.
Sizes available: 10-50 ml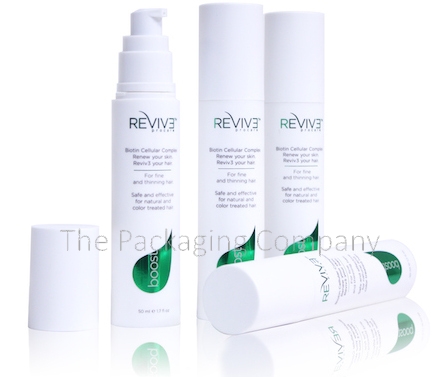 PP AIRLESS BOTTLES WITH FROSTED FINISH
Pursue an up-scale look using this creative decoration and finishing technique. Polypropylene Plastic (PP) airless bottles come in choices of matte, frosted, or a shiny finish. For example, the white frosted finish creates a comfortable sensation when touching.
Combine silk-screening with hot-stamped foil to highlight details, the white frosted airless bottle captures the clean and clinical essence of a skin or hair care brand. Modern design technology allows brands to add more value to their products without spending big on packaging. PP material is also a safe choice for medical and sensitive formulas.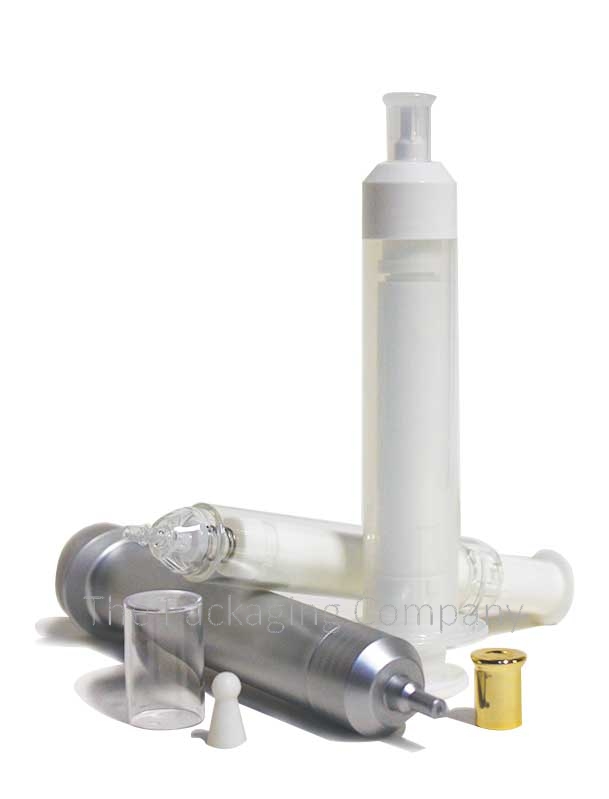 SYRINGE AIRLESS PUMP BOTTLES
Designed to meet the specific demand of pharmaceutical and skincare packaging, the syringe airless pump bottle with targeted applicator delivers a precise dosage. This benefits sensitive skincare and medical formulas because the repeated use of controlled dosage is essential to achieve desired results.
Sizes available: 10-20 ml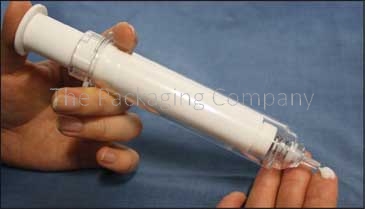 Dispenses 0.17+/-0.02 ml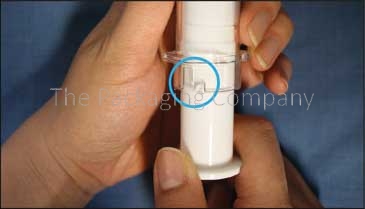 Twist and lock feature to prevent accidental usage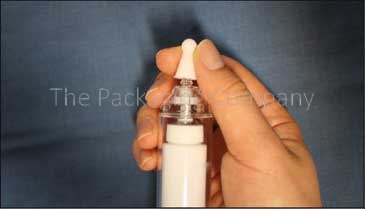 Seal tight rubber cap
Cosmetic tubes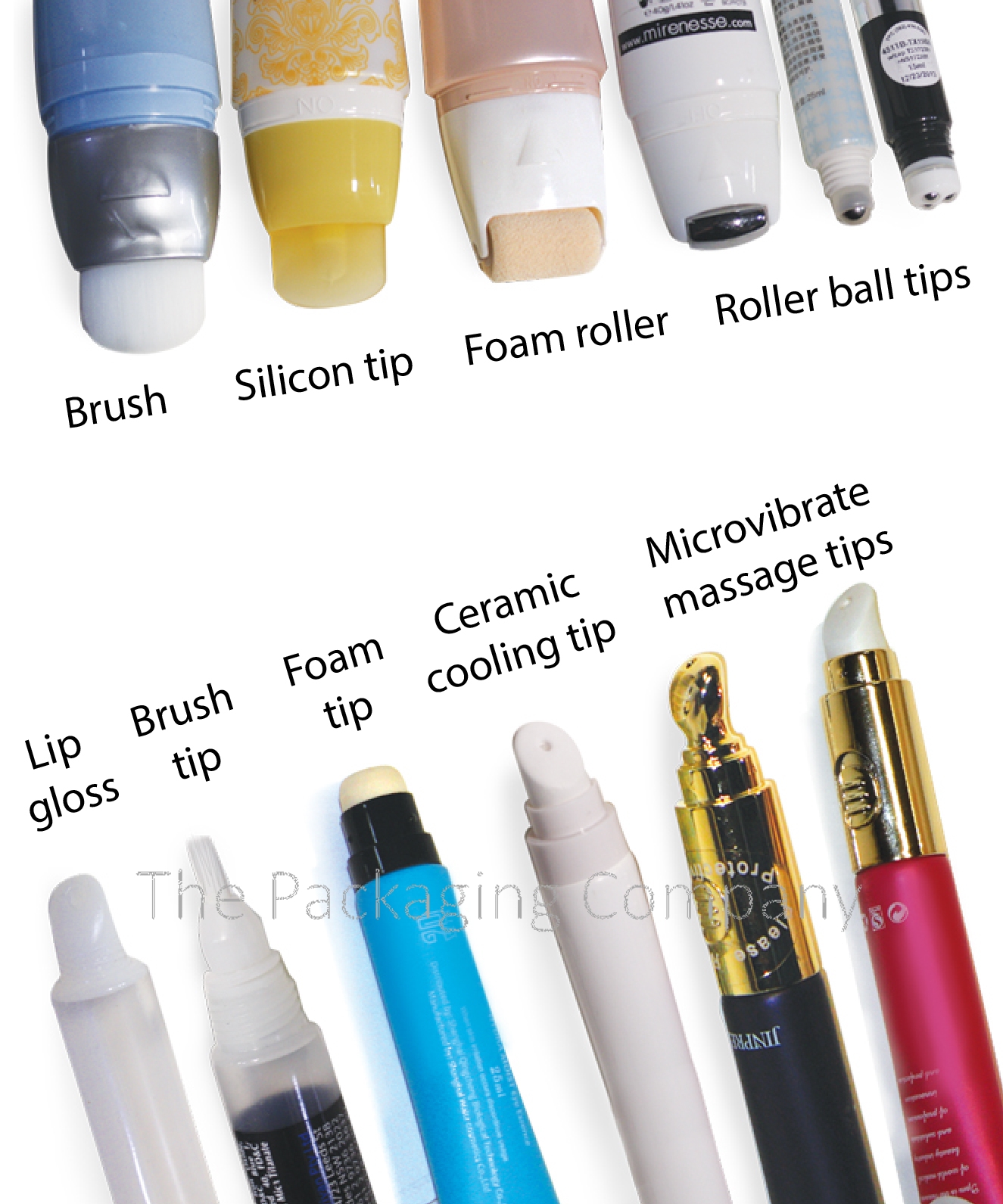 COSMETIC APPLICATOR TUBES
Ideal for eye cream, skincare, and medical products, our multi-functional applicator tubes include a variety of tubes with innovative applicators, adding value to your products and creating customer excitement and satisfaction.
The brush, sponge, and silicon tips allow smooth product blending into the skin, gently stretching the skin and providing a smoothing effect dedicated to anti-wrinkle care. The single or triple ball roll-on, micro-vibrate, and cooling ceramic tubes provide a unique massage sensation and cooling effects while applying your product.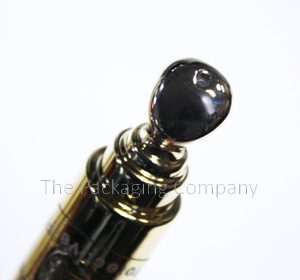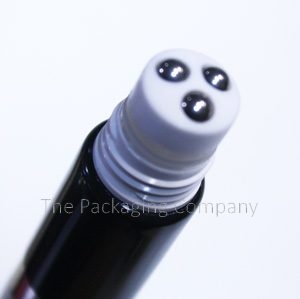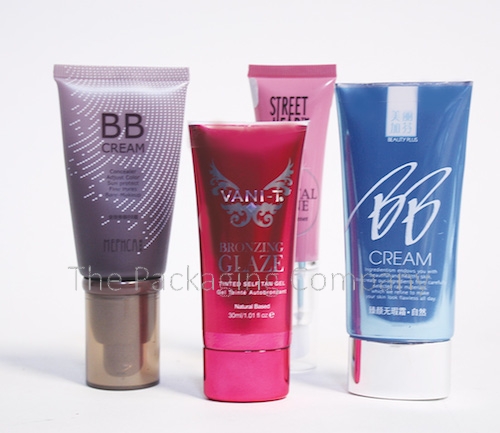 LAMINATED TUBES
Plastic laminated tubes and multi-layer tubes (3 to 5 layers) with EVOH barriers are utilized for products with active ingredients such as pharmaceutical formulas, sensitive skin care and eye creams, sunscreens, hair dyes, and essential oils.
Laminated tubes ensure your product is protected and enjoys increased shelf life. They are water vapor impermeable, chemically resistant, as well as light and moisture resistant. The tubes can be fully customized to achieve attractive results. Printing on tubes includes silk-screening, heat transfer, hot stamping, and offset printing.
Aluminum tubes are also available.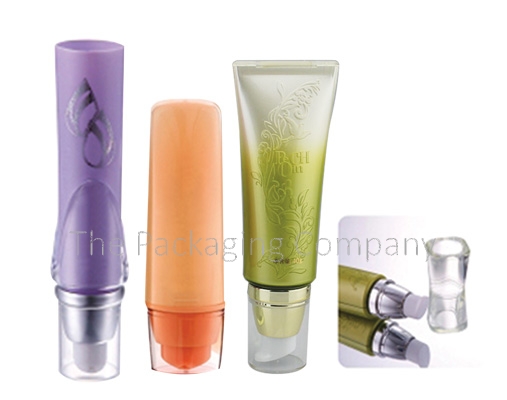 AIRLESS TUBES
Our new airless tubes combine a traditional tube with the innovative airless pump dispensing system, an economical alternative for skincare and medical products. Airless dispensing helps protect sensitive formulas from contamination via excess air exposure and bacteria.
Compared to traditional tubes, airless tubes dispense up to 98% product and provide a more accurately controlled dosage. Protection can be further enhanced by integrating a multi-layer protective barrier.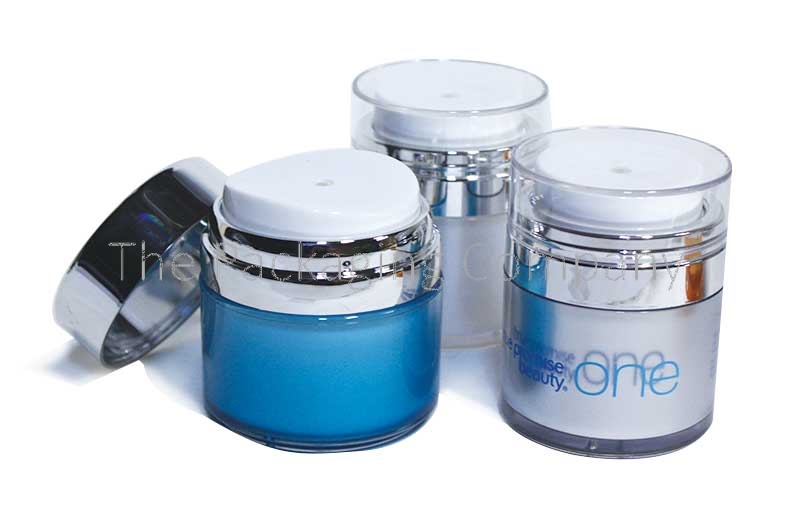 AIRLESS JARS
A new trend among skin care brands, their main advantage over traditional jars is in keeping your product more hygienic and safe from contamination. Airless jars increase your product's shelf life, protects your formulas from UV rays, and helps maintain better hygiene.
Instead of dipping fingers into the cream, users press the actuator to deliver a controlled dosage of cream. Users benefit from controlled doses, ideal for top-quality serums and sensitive skin care products.
Sizes available: 15, 30, & 50 ml
ACRYLIC CREAM JARS
Our double-walled acrylic cream jars reflect the high fashion aspect of skincare packaging. This custom component has a crystal acrylic outer jar for increased durability and weight and a polypropylene inner jar to preserve moisture.
Choose between a wide selection of styles, colors, and shapes.
Sizes available: 5-150 ml
Color cosmetics: Lipstick tubes, Compacts, Mascara and Eyeliner cases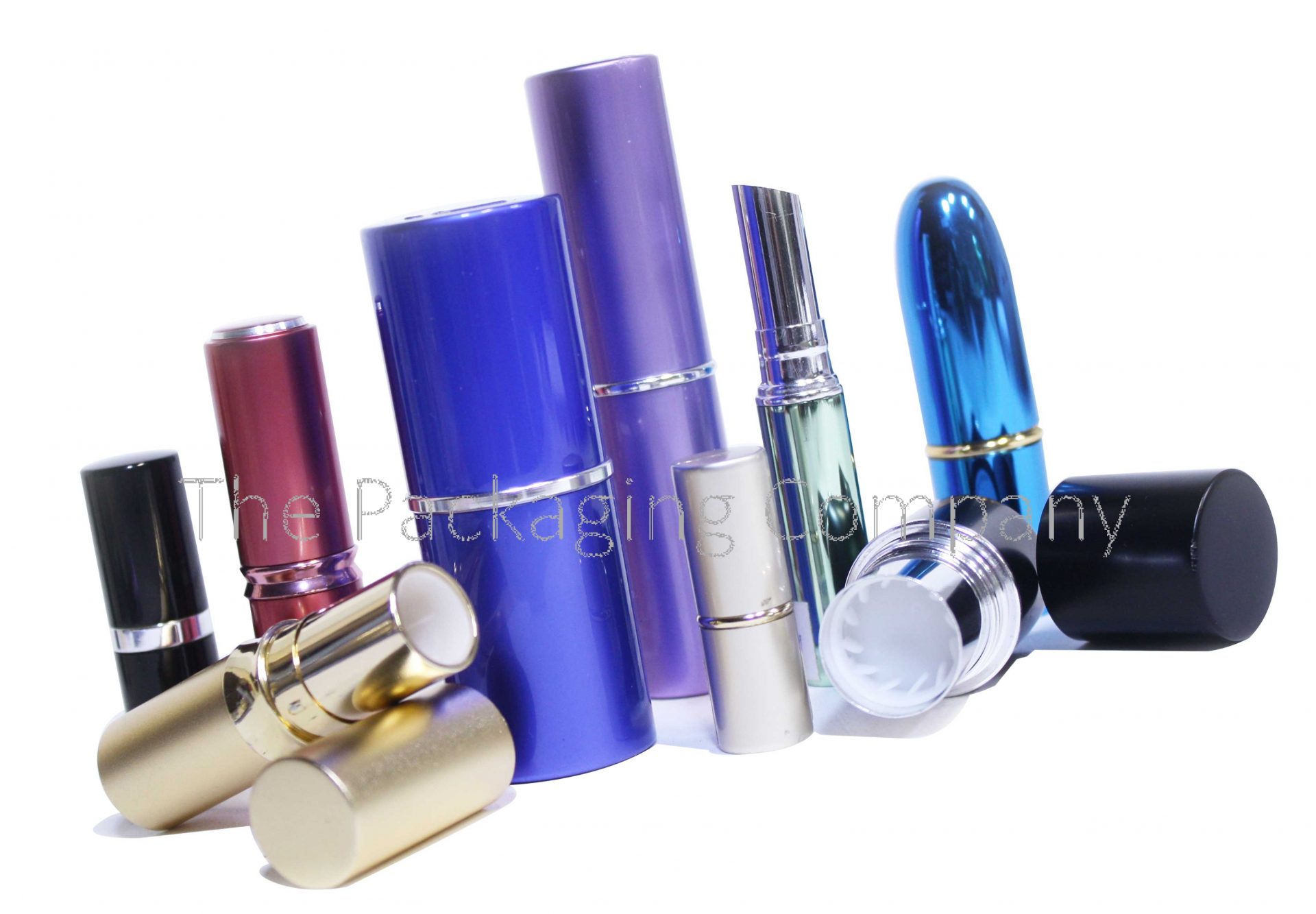 LIPSTICK TUBES (Aluminum)
Effective packaging is about attracting attention and elevating perceived market value. The moment customers touch these aluminum lipstick tubes, its coolness and shiny surface add tremendous value to the products.
We offer a full line of aluminum lipstick packaging (aluminum lipstick cases and aluminum cheek tint containers) with an unlimited selection of colors, styles, and decorative options available for customization.
Aluminum provides a wide range of additional decorative options such as embossing, debossing, oxidation, and metalized effects that cannot be easily achieved on plastic packaging.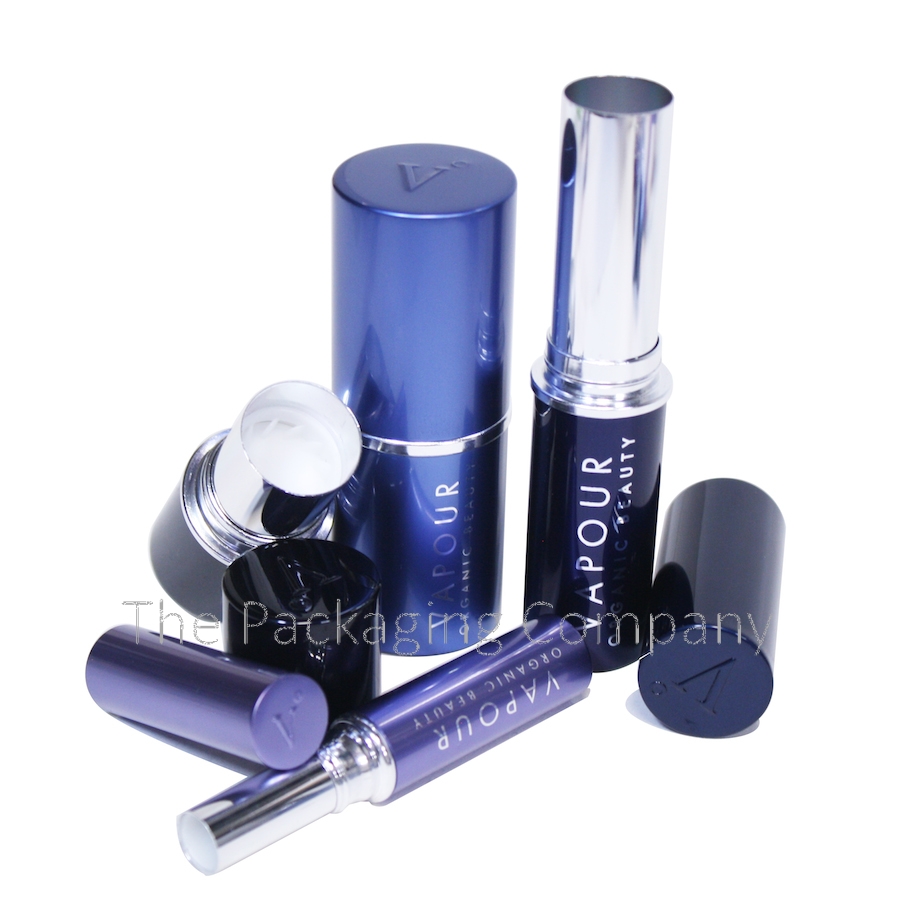 Aluminum Cheek Tint Containers are our sleek, modern, and luxurious innovation in cheek/blush packaging.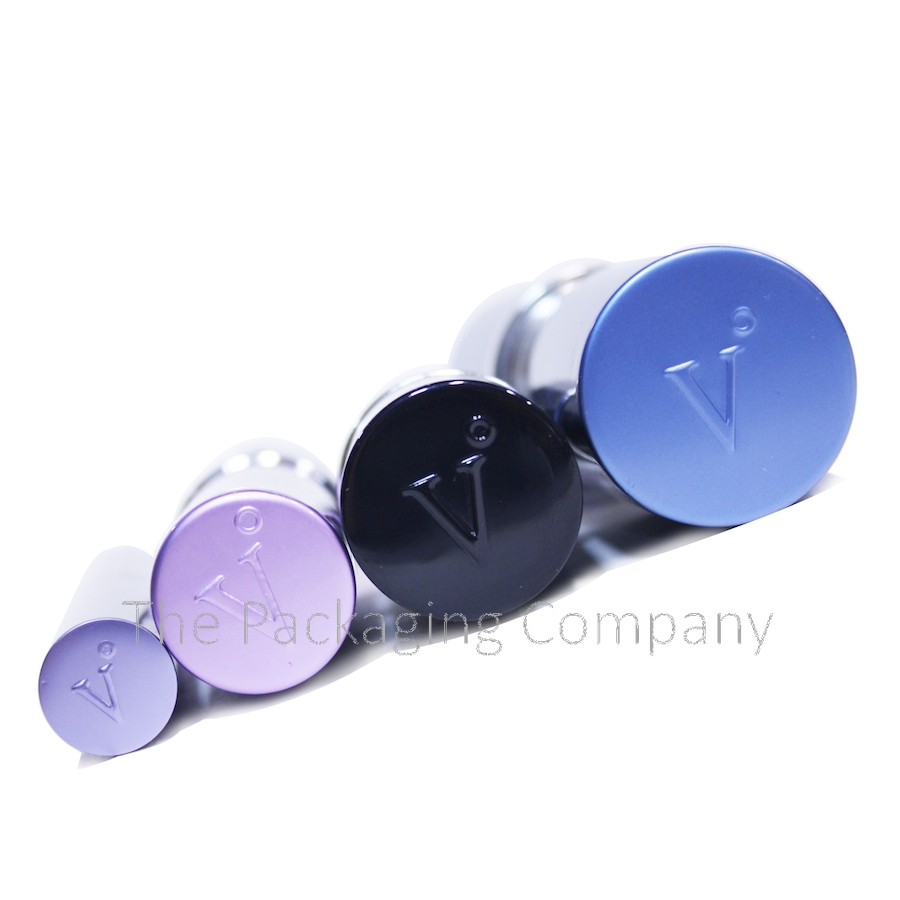 Embossing and debossing our aluminum lipstick cases allows companies to personalize their packaging with unique designs, adding additional value to your brand and product.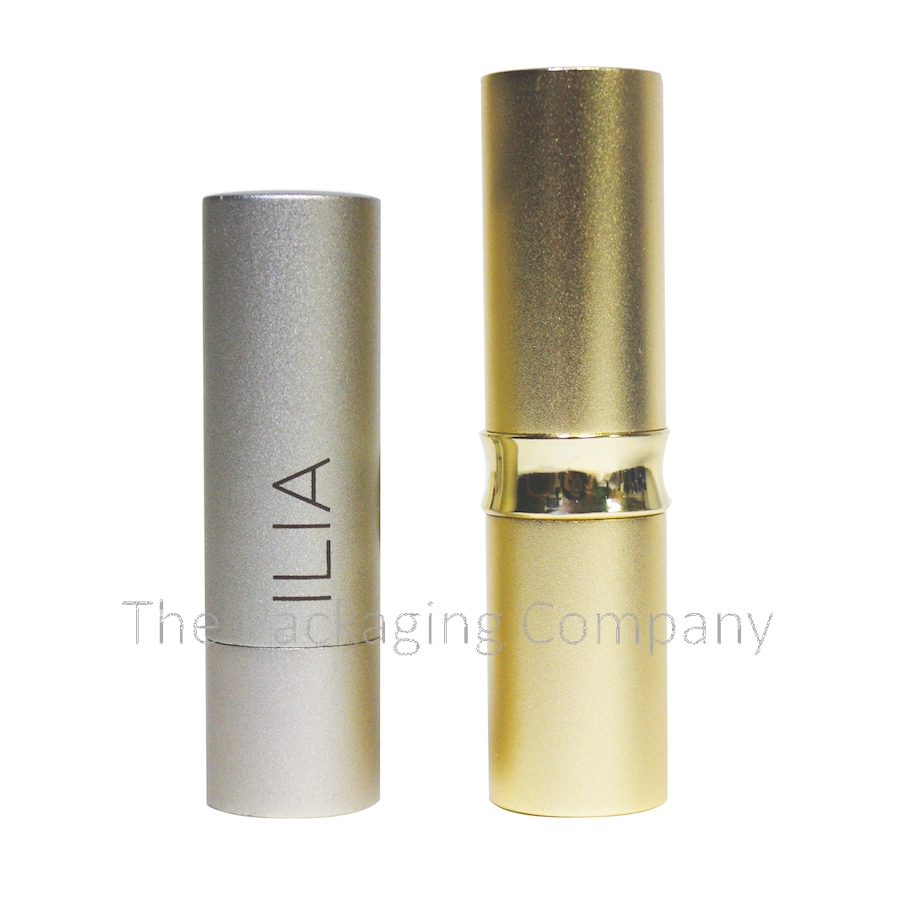 Textured oxidation on aluminum components creates a glittering effect and pearlized texture, giving aluminum the look and feel of precious metals (gold and silver).